For those of you that don't know me, let me quickly introduce myself. My name is Jessica 'Zoo' and I'm the creator of Cheerobics®:  a young professional that likes keeping fit, but dreads the boredom of regular exercise. I have always loved and coached cheerleading, and decided that it was time I combined my passion with a way to motivate others to have a bit of fun with fitness.
My second passion is food, and with that a great interest in nutrition. My family is French and Italian, so how can I not love food..! Since creating Cheerobics® I've had to keep on top of the latest fitness and nutrition information, and put them into good use! It may come as a surprise but as my job is so varied and mostly office-based, I'm am not actually able to dedicate more than 3 hours to my personal fitness a week.
So how do I stay in good shape? The good news is that if I'm able to do it whilst sitting at my computer for more than 60 hours a week, so can you! Here are my top tips to lose weight the healthy way, in the hope that they will help you as much as they have me!
I'm using Cheerobics® here as an exercise example, but if pompoms aren't your thing don't worry, I won't be offended :-) Use the information for yourself and apply it to what you like, whether it's Zumba, BodyJam, Bellydancing, Hip Hop! I picked cheerleading as a form of exercise because it makes me happy. I created Cheerobics® hoping that it will make other people happy to exercise too. If you prefer shaking your hips to latin beats, trust me I won't be taking it personally!
Let me know how you get on by tweeting me @JessicaZ00
------------
Top Tips to Help You Achieve The Body You Always Wanted
There is no magic behind being fit: it's all a question of balance between exercising, being healthy, happy and having a good diet.​ It all comes down to maths: If you have a high body fat percentage, even if you have great abs you won't see this because your adipose (fat) layer is too thick to show the definition. A balance of a healthy diet and cardiovascular exercise will help you lower your body fat percentage, and doing regular muscle toning exercises will make you look fit. Here are my top tips!
MOVE! DO CARDIO EXERCISE​ ​
You need to do at least 30min of consecutive cardio work 3 or 4 times a week to stop yourself from gaining weight. Cardiovascular activity means that you are getting your heart to work faster so that your body can burn fat, but this needs to be sustainable exercises so that you can keep going for at least 40 minutes or so to be effective. All of our Cheerobics® classes and DVD are designed to get you moving for an optimal fat-burn rate. Again, if shaking pompoms isn't your thing, I won't be offended - the important thing is for you to keep moving and it's up to you to choose what suits you best!
TONE YOUR MUSCLES
Have you ever wondered why so many people can be skinny but look 'flabby'? That's because they have very little muscle, which is what is known as being 'skinny-fat'. If you want to look great, doing cardio is not enough - you need to work on building your muscles. We're not talking about turning you into a body builder, and you don't have to ever lift a weight to do this. All you need to do is to some form of body tonig exercises for min 20 minutes x 3 times a week, which is why our DVD and all our Cheerobics® classes include a 20min 'floor section. See an example below, and see more exercises on Youtube.
EAT WELL - YOU WON'T LOSE WEIGHT IF YOU HAVE A POOR DIET
None of the above is going to have an impact if you treat yourself to cheeseburger and fries. No matter if you want to try Atkins, South Beach or the cabbage diet, there are a few rules that you need to remember. ​​
​1) Be healthy - cutting out one group of foods completely and starving yourself is dangerous and can actually produce opposite results. By eating too little your body goes into starvation mode and your metabolism falls to the ground, so you are not actually burning fat as efficiently. When trying to loose weight, you should be aiming at consuming 1100 - 1500 calories a day. To stay fit, you will need between 1800 - 2000 calories a day. You can include 1 cheat day a week and treat yourself to your favourite meal - believe it or not your body needs this to boost its metabolism and ensure it doesn't go into 'starvation' mode.
​ ​​
2) Swap 'bad' carbs for more protein. Lean protein such as chicken, fish and tofu will help you build your muscle tone. Make sure that at every meal you include some form of protein. An easy way to do this is snacking on beef bilton (or low sugar beef jerky), chicken and poached eggs with veg soldiers such as asparagus. In general, try and reduce as much refined sugar and white carbs as possible. These are bad for your health, immune system, lower your metabolism and have no nutritional value. DId you know that sugar is an inflammatory chemica that makes your illnesses worse, and it's been proven to be as addictive as heroine? See them as 'treats' as opposed to routine.​ On a daily basis, try to use natural sweeteners such as Stevia in your tea and your recipes - it has 0 calories! ​
3) Swap the bad fats for the good ones. There's a reason why Mediterranean people live longer on average than anyone else: they have very little bad fats in their diet! Olive oil, fish oils and nuts are all fantastic, and so is coconut oil. You can use this for all kinds of cooking and is great to boost your health. But remember, they're still oils so moderation is key! ​
4) Say no to processed foods: there is a long, long list of why these are so bad for you! It might be convenient to buy a frozen ready meal, but try to find tasty, quick alternatives that take less than 5 minutes to make. An example is an omelette or a wholegrain wrap packed with your favourite chopped veg, leaved and a bit of protein. ​ ​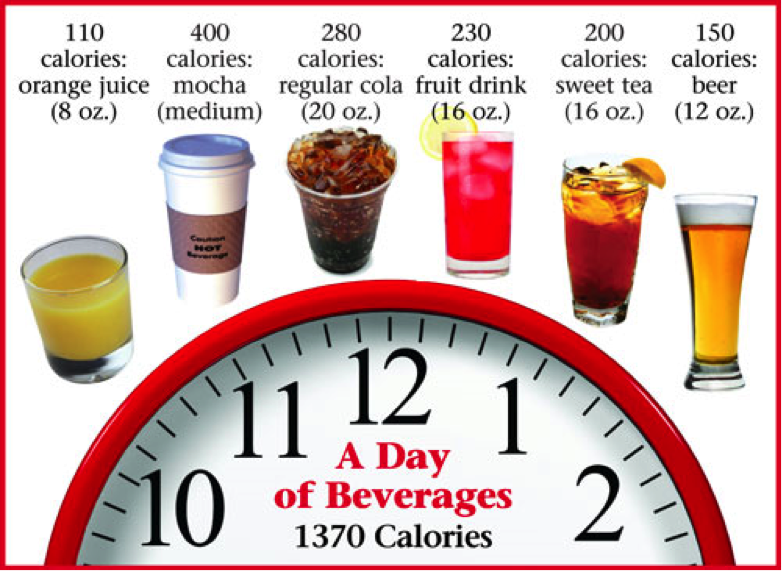 Image from www.110pounds.com 's great article on drinks & diet
5) Swap the drinks. Reducing alcohol intake is the quickest way to see results fast. Not only alcohol is bad for you (5 tequila shots and 4 cocktails is NOT like having a medicinal glass of red wine!) but it is packed with calories! Did you know that 1 shot of liquor has about 90 calories and the average cocktail can contain between 200 and 400 calories? No wonder you weren't shedding the pounds! Try switching more of your alcoholic drinks, frappucinos (full of sugar & fat) and fruit juices (also deceitfully full of sugar) with tea, infusion, water, and if you must be naughty, a diet beverage. Your body needs hydration to get rid of toxins that can stick to your fat cells, so you can literally flush out the weight!​ ​ ​​
DITCH THE SCALES
I HATE scales and think they should be banned. As far as I'm concerned scales belong in the kitchen to weigh ingredients. The reason they are so misleading is because 1) muscle weights more than fat 2) weight fluctuates depending on the time of day, month, etc... 3) when looking at scales, you will always see a number, and the likelyhood is that the number you see will never be the one you want to see 4) it can become a dangerous game and people can go 'the other way' and start becoming obsessed with how low the number can go. This is one nasty aspect of Anorexia Nervosa.
If I were you, ditch the scales and get yourselves two pairs of jeans. The first is in the size you currently are, the second is your next target (Ie if you're a size 14 getting a pair of size 6 jeans is not going to be very motivating!). Try both your jeans on once a week (my day is sunday) and see the progress that way. Once your 'skinny' jeans fit you well, you can either use them weekly to check if you're on target, or buy the next size down. Please STOP at a reasonable size, and remember that this takes time - but if you put in the hard work it WILL pay off. It can't not work - it's maths!
PREPARE FOR D-DAY Certain foods such as dairy, processed foods, white carbs and sugars will effect your tone and bloating. It is not a good idea to cut these out of your diet entirely (balance is key!) but doing a 2/3 day detox before a big event will definitely help you to look in top shape for the big day. 
HAVE FUN AND BE HAPPY! The most important thing here is once you're aware of the facts, find a way to make it a fun challenge. Boring fitness is a thing of the past. Whether you want to fight yourself fit, shimmy to latin beats or shake a pair of pompoms, just get involved and have some fun! Make sure that you set yourselves realistic goals. Women, like apples, come in different shapes and sizes. If you're a golden delicious you'll have a hard time trying to turn yourself into a pink lady. Instead of trying to aim for the impossible, look at the best YOU can be, and aim for that.​ ​ ​
Unless you want to turn yourself into a scrawny professional pouter, you need to make sure you are enjoying the 'getting fit' process and set yourself achievable goals. Cheerobics® was created to do exactly that, and we really hope to get you fit by shaking pompoms!